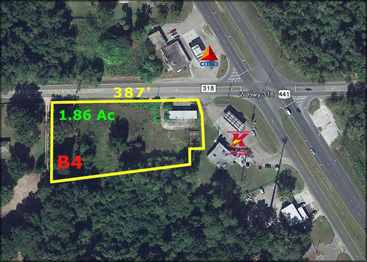 This prime property features 1.86 acres with nearly 400 feet of frontage for superb visibility from intersection of US HWY 441 and HWY 318 in Reddick – Just north of Ocala FL.
The lot dimensions and heavy commercial zoning allows for many uses; free standing retail, strip centers, restaurants, and many more. The demographics support auto and marine service (due to its proximity to Orange Lake) discount stores, hotel for travelling trucks, check cashing and others.
Located just 1.5 miles from the Interstate I-75, this land will make a choice location for your new enterprise.Features include: Triple access. High visibility from traffic signal. 60 feet of curb cut. 387 feet of frontage on HWY 318. Suitable lot dimensions for retail center. Cleared lot.