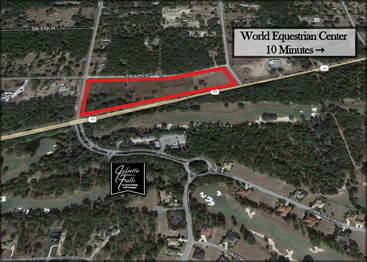 Now available! This property is in the heart of horse country and has rural land use. This ~11.8 acre site would make for a wonderful homestead with its beautiful land and oak trees to provide shade. This is the prime opportunity to enjoy the equestrian lifestyle. The World Equestrian Center is only 10 minutes away and offers the finest of equestrian facilities, entertainment, hotels, restaurants, and shopping.
Marion County is home to the most horses of any county in Florida. There are an estimated 80,000 horses and 195,000 acres devoted to the equine industry – creating an economic impact of 2.3 billion dollars. For this reason, Marion County is the Horse Capital of the World!
Directly South of this property is Juliette Falls Golf Community, whose fairways were voted as a top 50 Golfers Choice by NBC's Golf Pass. Inquire today on this wonderful land offering!